Community
12th Annual Non-Profit Event Giveaway
Since its inception in 2011, the annual Non-Profit Event Giveaway has become one of our favorite days of the year. We are once again in the unique position to donate our services to a deserving organization within Colorado. We will grant $25,000 worth of in kind services from Catering by Design and/or Decor by Design towards a fundraising event hosted by a worthy Non-profit. This is our means of giving back in a meaningful way and we are proud to uphold our philanthropic duty and excited to give back to the community that has helped us thrive for over two decades.
We are beyond excited to announce the winner of our 2023 Non-Profit Giveaway and recipient of our $25,000 event grant Bal Swan Children's Center. Bal Swan is a non-profit located in Broomfield, Colorado who serves young children of all abilities and their families through early childhood education and therapeutic support. Bal Swan's mission is to "build a social emotional foundation and nurture an inclusive learning community where children and families grow and belong."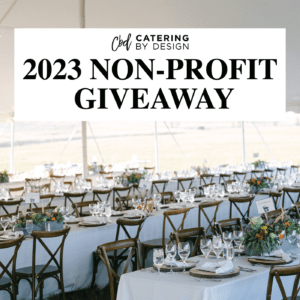 Submissions are current closed for 2023. Please check back for our 2024 Non-Profit Giveaway.
Previous Recipients:
2022 Butterfly Pavilion
2020 Zuma's Rescue Ranch
2017 Youth on Record
2016 There With Care
2014 EarthLinks
2013 Butterfly Program
2011 Urban Peak