When planning your wedding in the Denver area, you have so many incredible options when it comes to selecting your Denver wedding venue! One thing many couples tend to flock to when it comes to planning a wedding in the Mile High City is all the stunning outdoor wedding venues that sprinkle every nook of Denver and the surrounding areas. There's something so magical about getting married with snowcapped Pikes Peak in the background, surrounded by lush blooms and green space. There's nothing more natural than love, so celebrating the beginning of your new lives together amid all the gorgeous natural spaces near Denver seems like a perfect fit, don't you think?
To get you started on your search for the perfect outdoor wedding venue for you and your partner in Denver, here's a list of some of our favorite spots you should check out!
Denver Botanic Gardens | 10th & York Street, Denver, CO | Seated Capacity: 600
There's no place more whimsical than Denver Botanic Gardens, making it the ideal spot to celebrate your new lives together! The grounds of these expansive gardens are carefully curated and impeccably kept, with lush greenery, captivating scented blooms, exotic tropical plants, flowing water features and more. At the gardens, you'll find over 10 different spaces to choose from when selecting the ideal setting for your big day, each exuding charm and romance in unique ways. Whether you want a grand tented soiree, an intimate gathering in a secluded secret garden, or a casual boho fete among the woodlands, the Denver Botanic Gardens has it all!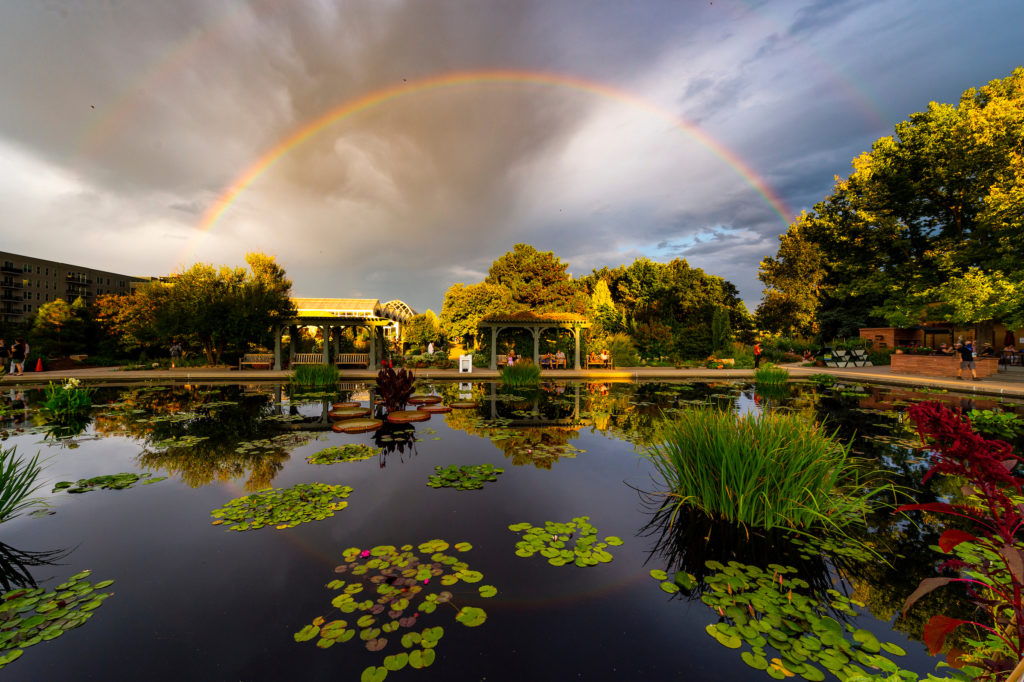 Grant Humphrey Mansion | 770 Pennsylvania Street, Denver, CO | Seated Capacity: 180 Guests
If you're looking to pair historic elegance with outdoor charm, the Grant Humphrey Mansion could be the perfect option. The mansion dates back to the early 1900s and is characterized by its unique neoclassical architecture design elements like grandiose columns, intricate marblework and beautiful gardens. These features and more make it an ideal spot for dreamy wedding photos you'll cherish forever!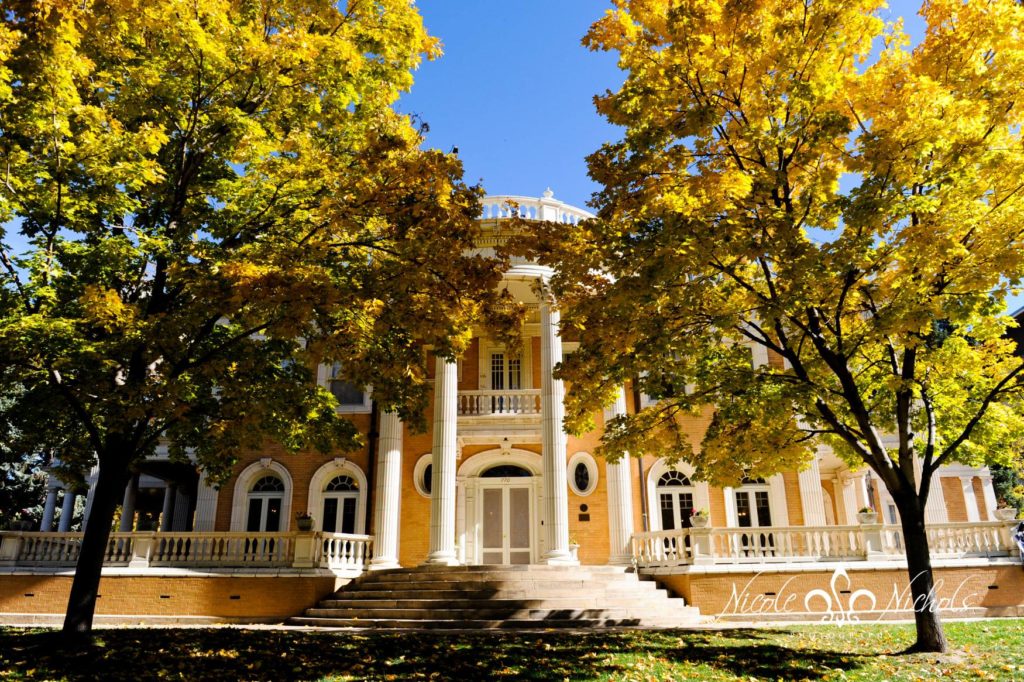 The Barn at Evergreen Memorial Park | 26624 N. Turkey Creek Road, Evergreen, CO | Seated Capacity: 200
For a true rustic affair, The Barn at Evergreen Memorial Park is a must-see destination. Situated on 100 sprawling acres of green space and surrounded by gorgeous mountainous terrain, this iconic destination is perfect for those who want to escape the hustle and bustle of the city. The historic barns found on-site are all incredibly unique, boasting traditional design but accented by stunning, intricate stained glass windows and decorated with local antiques. You can host indoors in the barn or outdoors on the sprawling lawn with views for days—totally up to you and your partner!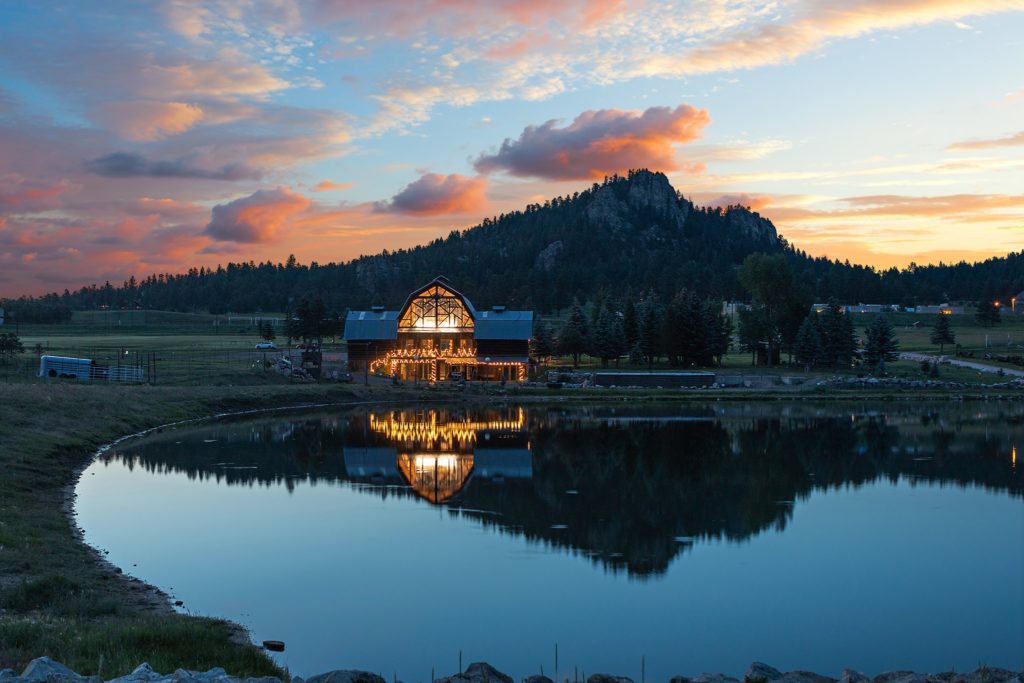 Blanc | 3150 Walnut Street, Denver, CO | Seated Capacity: 150
Right in downtown Denver, you'll find Blanc, the hidden gem of the Rino neighborhood. This self-proclaimed eclectic event space offers the best of both worlds, giving you a luscious outdoor vibe with tons of greenery and romantic lighting that has you feeling as if you're miles away from downtown. A true urban jungle waiting to be explored!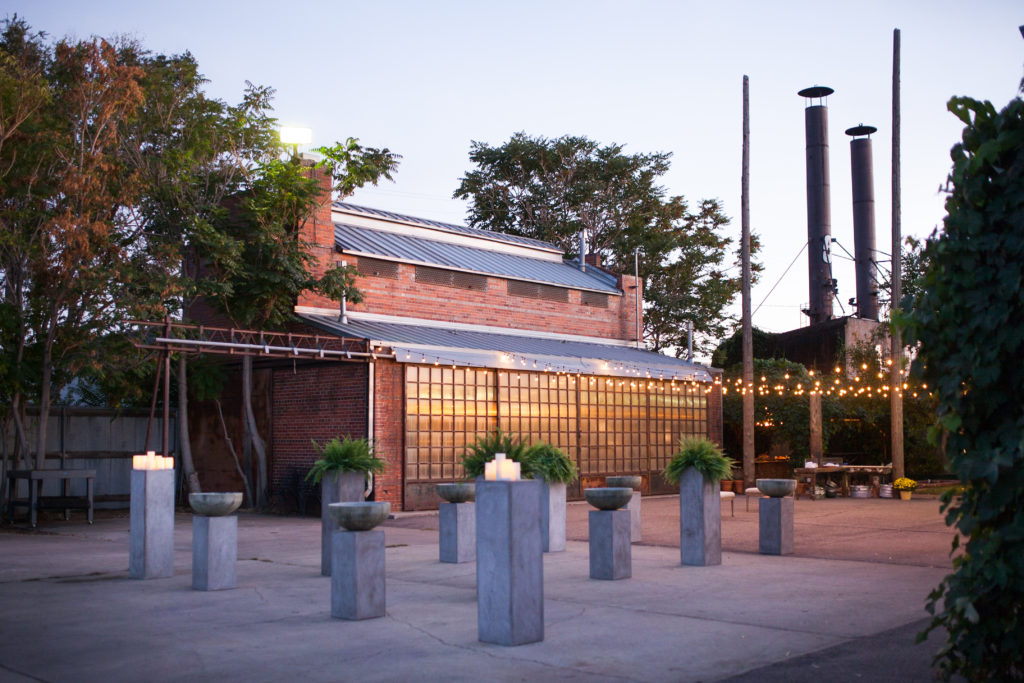 Cherokee Ranch & Castle | 6113 N. Daniels Park Road, Sedalia, CO | Seated Capacity: 75-150
Every girl has dreamed of getting married in a castle at some point in her life, right? Well, at Cherokee Ranch & Castle, that dream can come true! This captivating natural wonder is a reserve situated on over 3,400 acres of land that was once two separate farmsteads, one of which built a Scottish-style castle on the grounds in the mid-1400s that is still standing today, restored for events and tours. Many also choose to get married outdoors to dance the night away, high up in the mountains, celebrating under the stars.
The Venue at Crooked Willow Farms | 10554 South Perry Park Road, Larkspur, CO | Seated Capacity: 200
Just over 30 minutes away from Denver, you'll find the romantic and one-of-a-kind Crooked Willow Farms! This captivating farm venue offers three distinct spaces for the charming rustic wedding of your dreams. The gorgeous red barn on site has a loft space sprinkled with dreamy lanterns, candles and stunning wood accents throughout, while the Carriage House Ballroom marries modern and rustic charm with exposed wood beam ceilings, pristine white walls, floor-to-ceiling windows to let the natural light shine through, and gorgeous chandeliers that create bold impact. Of course, it's all accented by the perfect lawn space for plenty of outdoor fun, whether that's cocktail hour or your reception!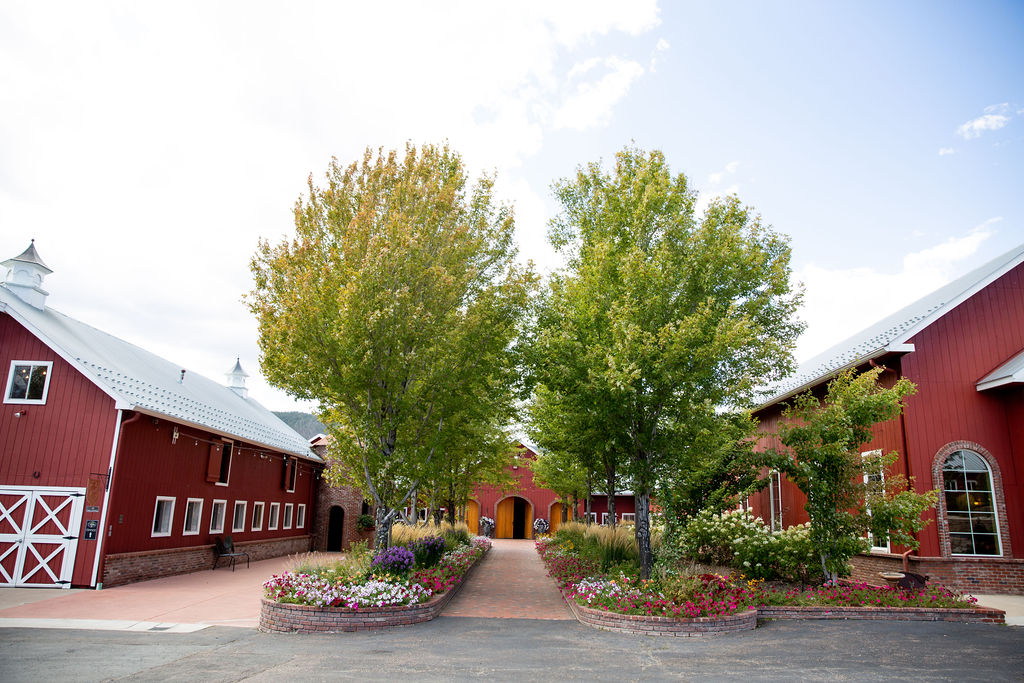 Spruce Mansion Ranch | 14771 Spruce Mountain Road, Larkspur, CO | Seated Capacity: 250
Located on 85 acres of mountainous terrain just outside the city, the Spruce Mansion Ranch offers a variety of spectacular settings for your big day on their Upper Ranch and Lower Ranch areas. The lush farmlands are decorated with native plant life and wildlife, as it is a working ranch as well. Each of the indoor spaces are decorated with natural wood and antique accents to match the natural surroundings. Unique to this property, not only do you get the views of the mountains, but you also have water views with a lake and two large ponds on-site. There is no shortage of charm or vistas at Spruce Mountain Ranch!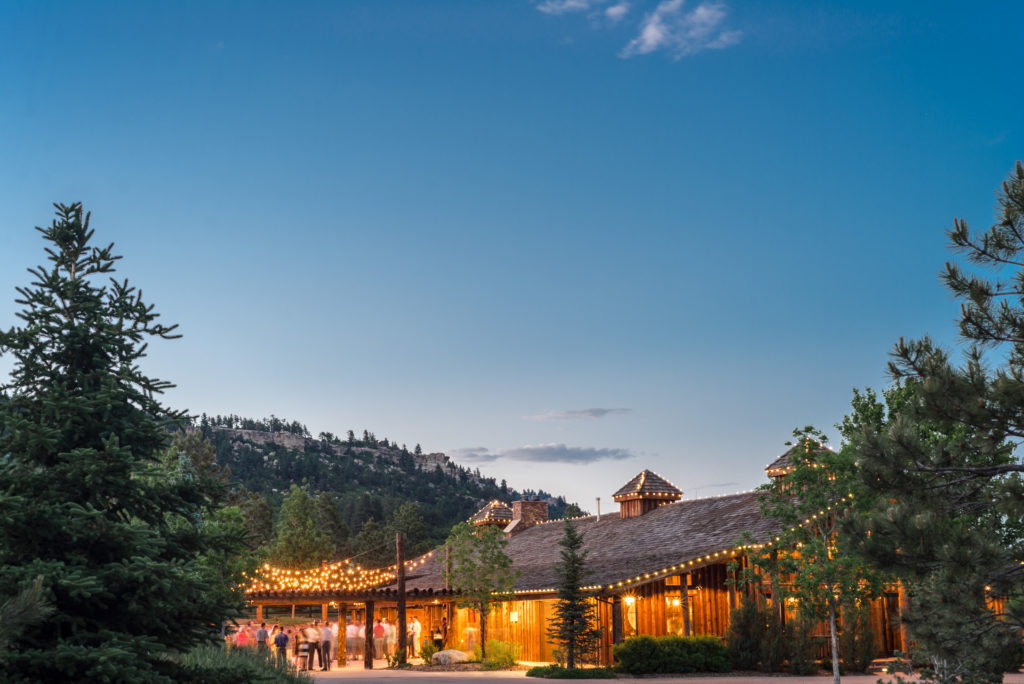 Washington Park Boathouse | 701 S. Franklin Street, Denver, CO | Seated Capacity: 150
Since the early 1900s, the Washington Park Boathouse has been watching over the banks of Smith Lake in the center of Washington Park. It's a unique venue in that it's similar to a pavilion-style building with windows and walls that open straight to the water and park views for a seamless indoor/outdoor flow. It offers protection from the elements but allows you to be nestled among nature as you say your "I Do's"!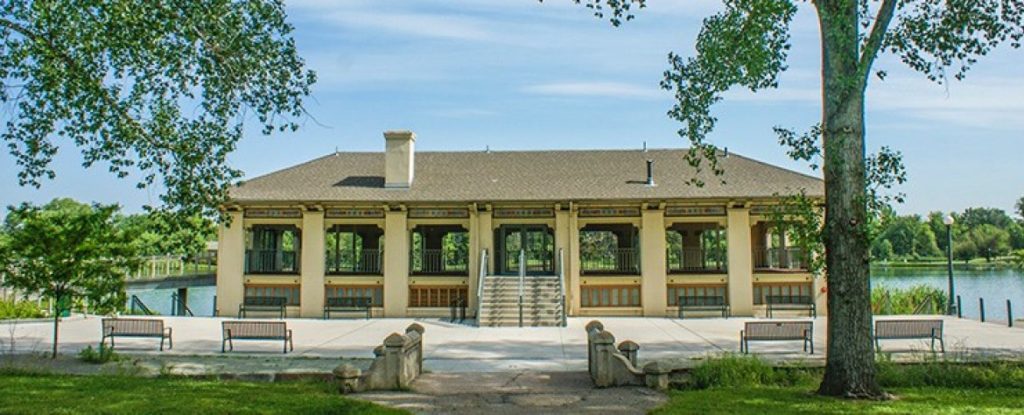 Woodlands | 8884 US Hwy 285, Morrison, CO | Seated Capacity: 200
Rustic, chic and modern all in one, the Woodlands is a stunning barn venue nestled in the woods of Morrison, just a half hour away from Denver. What we really love about Woodlands is that it's owned by the sweetest little family—a husband and wife duo who truly know the meaning of love and aspire to provide the most incredible wedding day for every couple they host. The barn on-site is modern-industrial in style with clean white walls and bold black accents throughout. It's a true blank canvas for your perfect wedding day, with tons of outdoor space for added fun and photos!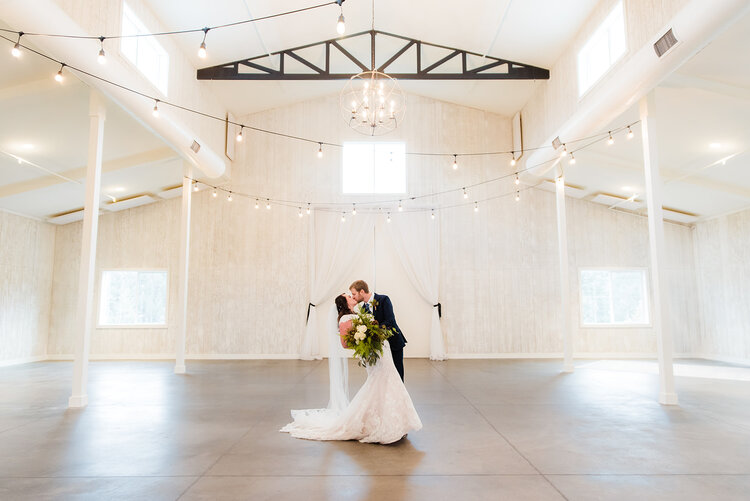 Della Terra Mountain Chateau | 3501 Fall River Road, Estes Park, CO | Seated Capacity: 200
Estes Park is known for being one of the most naturally stunning locales just outside of Denver, and the Della Terra Mountain Chateau is a part of that beauty. Imagine a breathtaking ceremony under a wood beam pavilion decorated with your favorite florals, followed by a lively reception in the chateau, protected from the elements but boasting floor-to-ceiling windows that let nature and light in for the celebration! There are also many other spaces to explore, but regardless of what you choose, know that it will be magnificent in so many ways.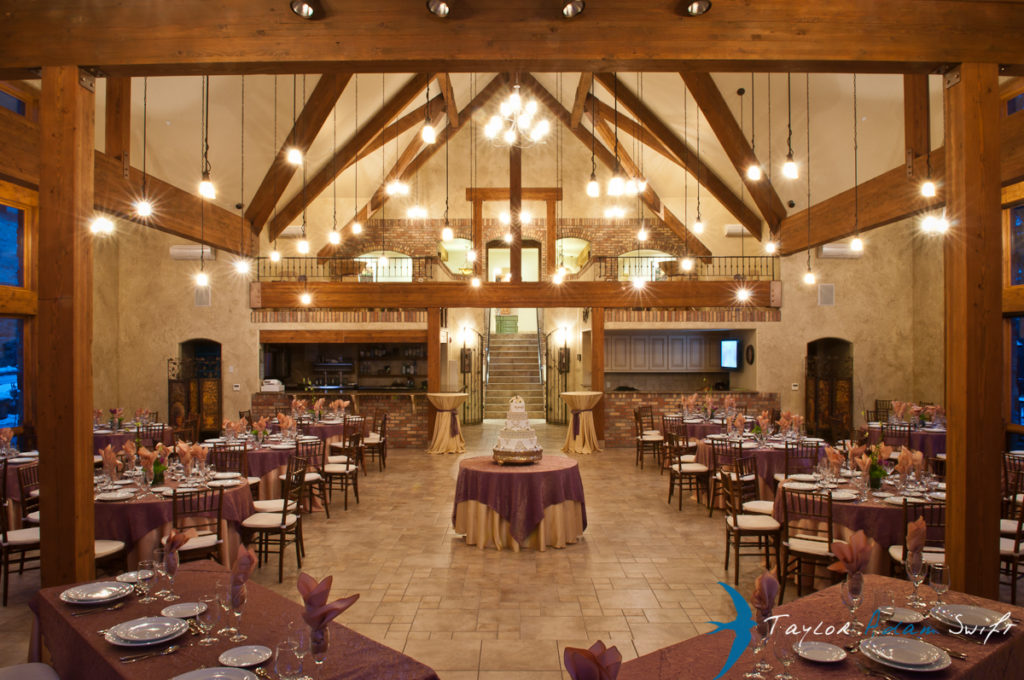 Asterisk Denver | 1075 Park Avenue West, Denver CO 80205 | Seated Capacity: 700
The views are a little different at Asterisk than the other venues we've mentioned! The historic warehouse was originally constructed in the early 1900s and was restored to preserve the historic charm, with an added modern vibe. The venue's rooftop provides sprawling views of Denver with string lights adorning the sky above to celebrate in the most romantic setting!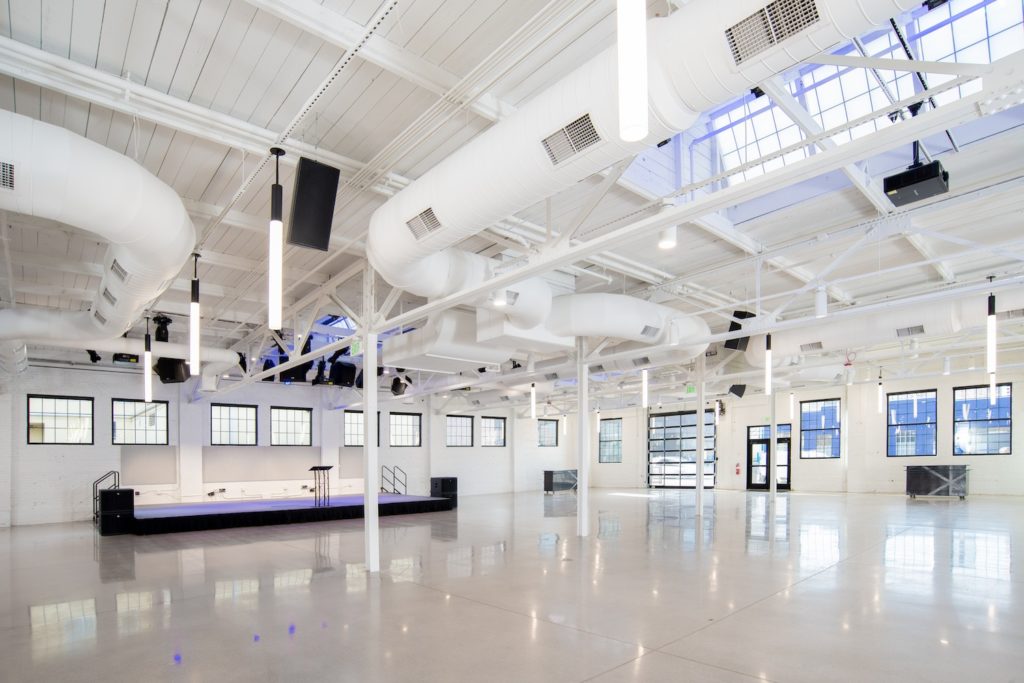 Ready to Plan Your Outdoor Denver Wedding?
If you're jumping out of your seat ready to explore these magical outdoor wedding venues in Denver, we want to help! Our seasoned team of catering and event professionals can help you plan every intricate detail of your outdoor Denver wedding. Our years of experience paired with a creative eye for design and culinary flair can help you bring your dream wedding to life, just as you've always envisioned it! Let's chat to see how our Catering by Design team can help you plan your big day.
P.S. This is just a sampling of our favorites; check out our venue page to explore even more….