Sometimes corporate events get a reputation for being stuffy or all the same. But at Catering by Design, we promise you we don't have that problem! Every single event we plan and design with our corporate clients is infused with fun, flavors and festive energy to fuel the event's mission. The first place to start when planning a corporate event that won't be a snooze fest? A theme! When you have the perfect theme for your corporate event, it's so easy to take it up a notch with creative décor that will spark that WOW factor, food that will tantalize tastebuds in every room and activities that will create connection and generate impact.
Now, there are about a million and one corporate event themes out there these days—the sky is truly the limit! Here are a few of our featured favorites, but know that we can help you craft a magical event for any theme.
COLOR BASH
There's no better way to brighten a day than a Color Bash! This unique theme is one of our favorites because it infuses so much fun and creativity into the mix—a perfect ambiance to fuel inspiration and creativity!
The Color Bash theme is intricately designed with a pre-planned ombre hex code palette to ensure a bold transition through every color of the rainbow at the table. Each course is impeccably plated like a work of art. And you guessed it—each course features a separate color to fit the palette.
Whether it's a corporate sponsor dinner to thank your donors who have created an impact for your organization or the launch of a new campaign that's as bold and beautiful as this color palette, rest assured, this theme will create buzz.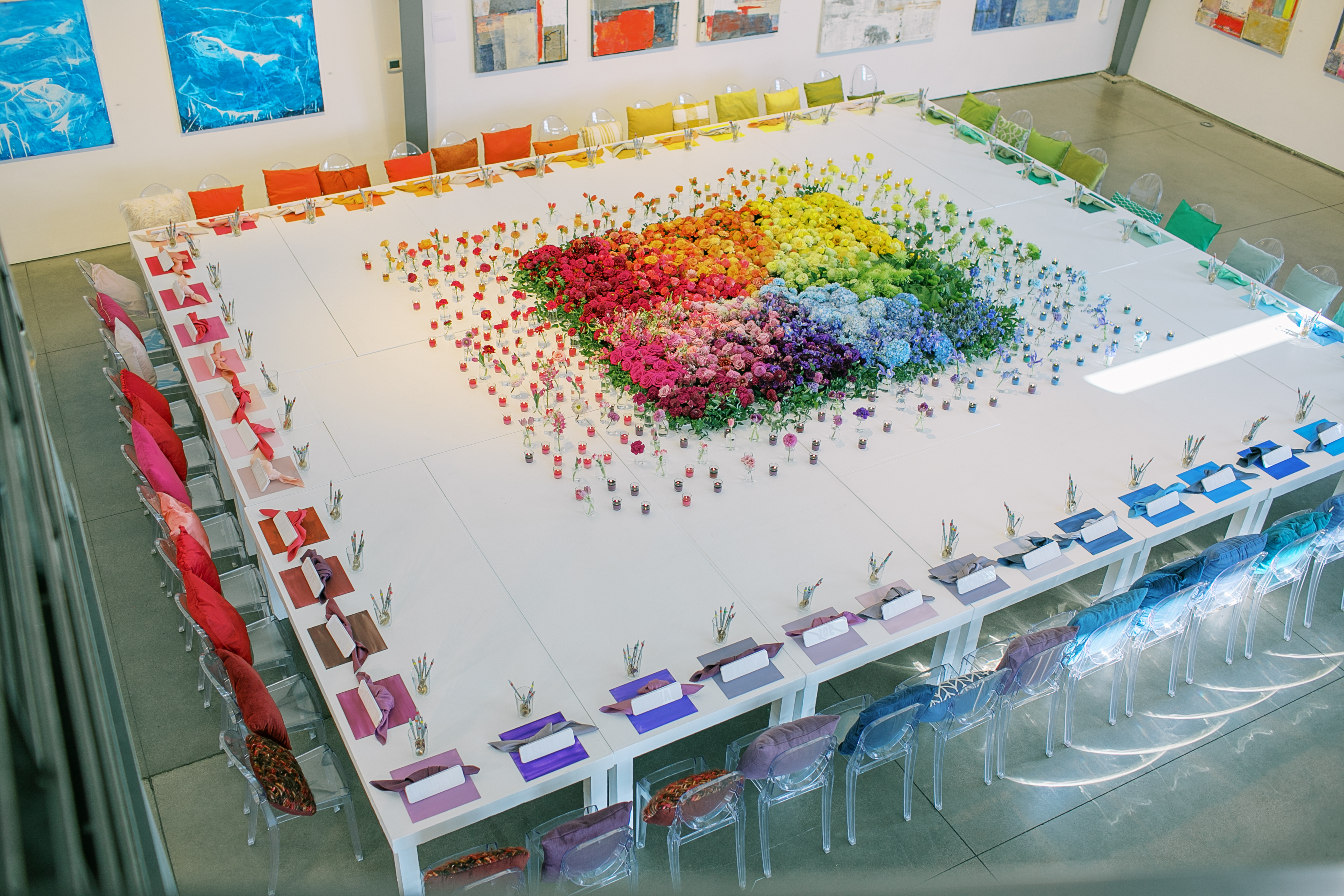 SPORTS/GAMEDAY
There are so many fun ways to incorporate sports and game day into your corporate events. Whether it's a team-building event where each group is assigned a team with a little friendly competition in the form of event entertainment, it's a way to get people excited! Plus, you can add tasty eats like slider bars and burger shacks for when the games are over and it's time for some grub.
ROARING '20S (OR ANY DECADE, REALLY!)
Decade theme parties are super fun to throw it back, or if you're trying to go really all-out, predict the future with some tech-savvy inspiration! The Roaring '20s are a great go-to with lots of creative options for festive cocktails or mocktails paired with some oysters Rockefeller, shrimp cocktails and all the sprawling charcuterie boards!
FARM-TO-TABLE
Farm-to-table is all the rage these days, but at Catering by Design, we can assure you that you've never seen farm-to-table done the way we do it. Farm-to-table can mean many things, but for most, it means a culinary focus on dishes crafted based upon what is sourced locally—a focus on fresh, quality ingredients that pack a punch of flavor with every bite. We do this, but we take it up a notch. Our goal is to add an element of surprise and interactive experiences to each event.
One example we love is our "living salad" course. We set a centerpiece filled with full heads of lettuce—roots and all—and allow guests to build their very own salad from scratch. They experience firsthand the quality and freshness of the produce in front of them. They cut their lettuce with gorgeous vintage kitchen scissors and top with all the fixings and dressings served alongside the lettuce.
There are many takes on farm-to-table, so let's be different and have fun with it, shall we? Your next corporate holiday party will be the talk of the town!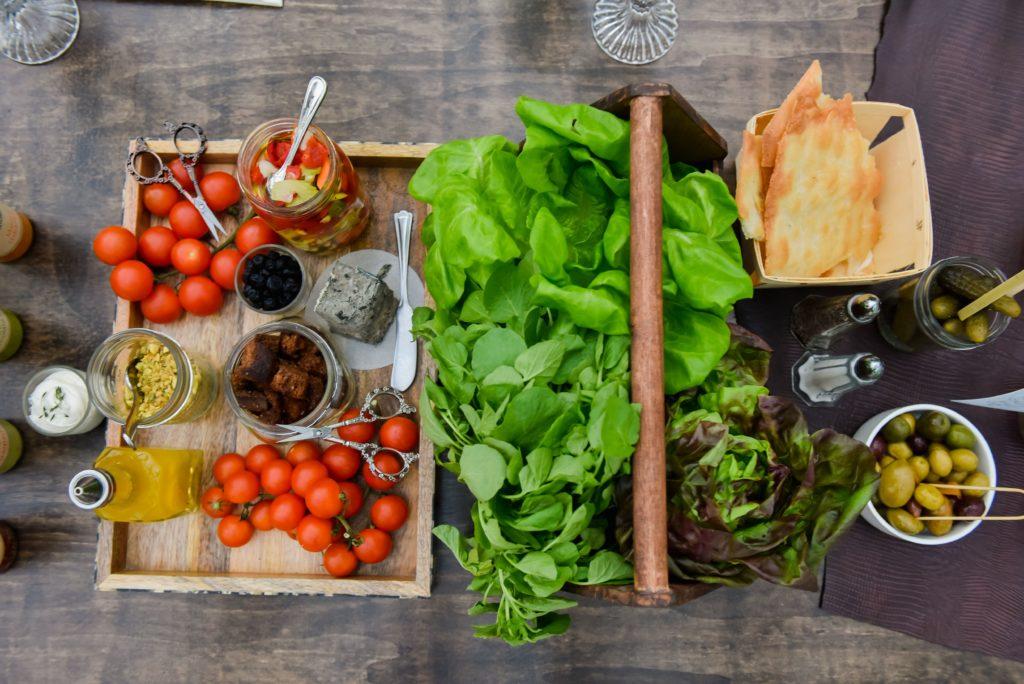 BRUNCH
Whether you want to say thank you to employees for completing a project ahead of time or celebrate retirements with a sweet adieu, brunch corporate events are always highly appreciated! Think mimosas and bloody Mary bars, quiche varieties, tasty breakfast sandwiches, chicken and waffles—drooling yet?
LUAU
Get out those leis and get ready to hula! A Hawaiian luau is the perfect corporate event theme for a company picnic or holiday bash. Think outdoor pig roast, plenty of pineapple drinks with pretty little umbrellas, a photo booth with company logo props—maybe even a hula dancing lesson!
P.S. Catering by Design has a picnic division that can help with this, as well as transform any of these themes into a grandiose or casual picnic that fits your company!
CASINO
The best feature of a casino night for a corporate event theme is the opportunity for branding! Get your logo plastered on poker chips, fake money for gameplay throughout the evening and card decks that can be used for table games and favors!
CAMPING (OR TAKE IT UP A NOTCH AND GO FOR GLAMPING)
Ah, the great outdoors! When in a locale like Colorado, so many of our events are based in nature and natural surroundings, which is why camping themes are just so fun. This is an especially fun theme for corporate retreats!
Now, s'mores are great and should absolutely be on the menu, but that isn't where the camping theme ends! Think pig roast under the stars, entrees rooted in fresh farm-sourced ingredients like pecan smoked salmon with forest mushroom cream sauce or breakfast sandwiches and burritos with bacon roasted over the fire. Add in fun activities like nature immersion scavenger hunts, silent discos under the stars or even star gazing to see who can find the most constellations!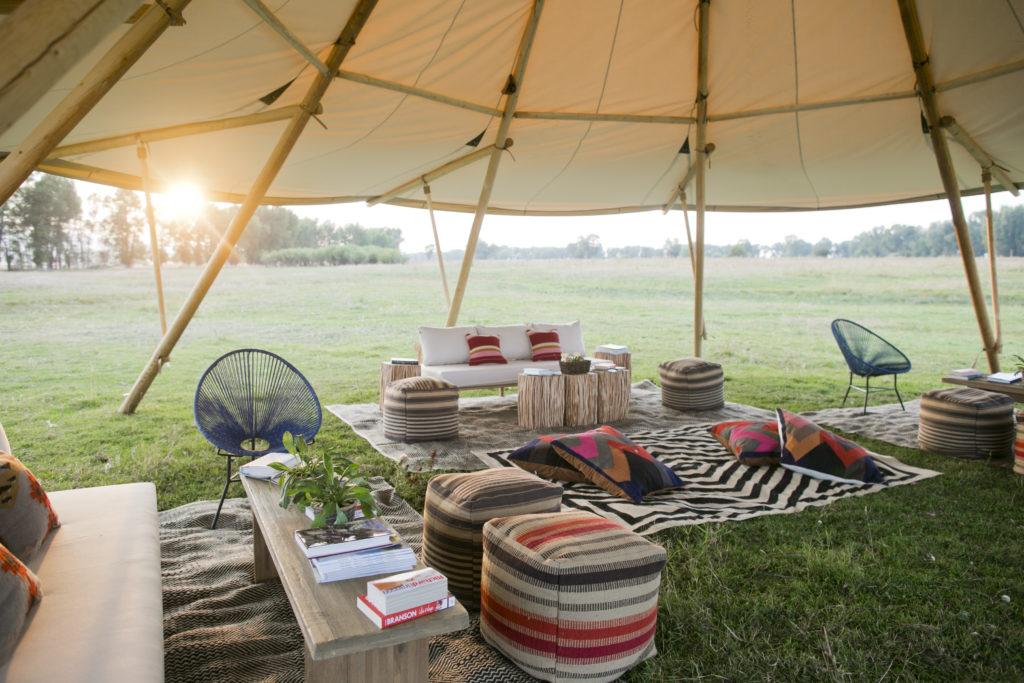 "LAUNCH" PARTY
Many companies love to travel, which is why a "launch" event could take a super fun turn with a travel theme! It's a way to impress your attendees at your corporate launch party with a fun take on what launch truly means.
Think plane tickets for entry and menu cards, internationally inspired dishes that will take guests on a flavor trip around the globe, and music from exotic destinations. Extra points if your product can be featured as a globe-trotting must-have!
A super fun addition is themed stations, each station with a different food feature from around the world! Think bao buns from Taiwan, BBQ and a make-your-own nacho bar from the US, tamales and tacos from Mexico, a chef-manned pasta bar from Italy… you get the picture!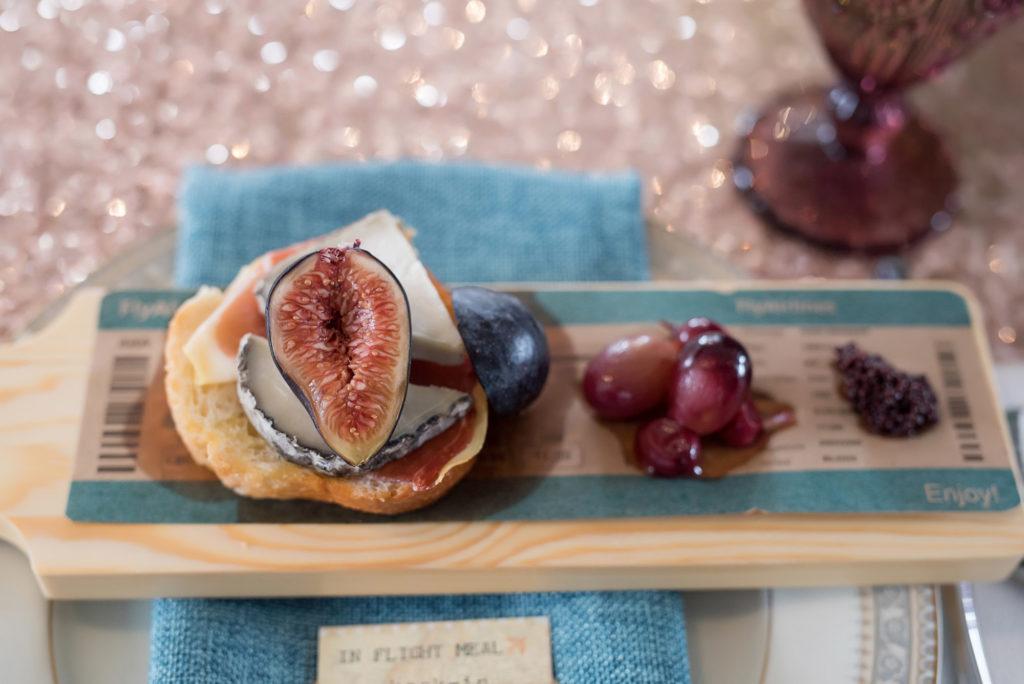 SKI LOUNGE
What do you think of when you think of a ski lounge? Maybe a cozy fire with hot chocolate to warm up and powdery snow that leaves a chill? All these elements can be translated into a cozy, elevated ski lounge theme! Create a multi-course fondue menu to spark conversation, offer spiked beverages to provide warmth, feature ice-cold palate cleansers, and of course decorate with all the warm plaid in your company's colors. You could also theme this as a fire and ice style event, pairing cool and warm tones, cold and hot small plates—time to get creative!
DRIVE-IN MOVIE
This old-school trend was revived during the pandemic, and dare we say we think it's here to stay? So many companies have used the drive-in movie model for awards dinners, providing a boxed dinner to enjoy in the car as the presentation is played on the big screen.
COLORADO DESTINATION THEME
When your company is based in Colorado, it's easy to want to show off that Colorado pride, and why shouldn't you? Colorado-themed events are a favorite of our corporate clients, whether they're entertaining investors or saying thank you to their team near or far.
A few of our Colorado-inspired favorites for a themed event are eclectic teepee seating with whimsical décor as an ode to our indigenous nations, craft beer flights to celebrate our local small business scene, juice bars to feature Denver landing on the "healthiest cities in the US" round-up, locally sourced plates like elk tenderloin with black currant demi-glace and carrot puree, green chile sliders or pork tacos and so much more.
How does your company want to celebrate your Colorado roots?
THEN, ADD YOUR BRAND; CATERING BY DESIGN CAN HELP!
With any corporate event theme, it's so important to make it your own—and this starts with the proper branding! Our in-house design department works with clients on the daily, determining the best ways to seamlessly incorporate your logo, values and mission into each and every little piece of your event!
Ready to chat about your next corporate event and how it will all come together with the perfect theme? Let's chat!