At Catering by Design, we're more than just your average caterer. We're designers, creatives, innovators and trendsetters—our clients tell us, and we have a few awards to prove it! In 2020, we were honored to receive the International Caterers Association awards for Caterer of the Year and Best Catered Event Designer for our Color Bash event.
We are so grateful and look forward to taking the innovation 2020 sparked in us to the new year. We love taking a look at what inspired us, what we think we will take with us as we design and cater flawless events in the upcoming year, and what trends we may leave in the past.
This year, we want to take you along for the ride! Let's dive into what we believe will be trendy in 2021….
EVENT DESIGN TRENDS TO WATCH FOR IN 2021
While catering is super focused on the food, a WOW-inducing event isn't complete without stunning design, right? Here are our predictions for 2021 event design trends:
BRIGHT, BOLD COLORS
We all need a little light in our lives after a dark year. The Pantone colors of the year—Illuminating Yellow and Ultimate Grey—bring a ray of sunshine into the color palette, and we couldn't be more excited! This will be a breath of fresh air after the year we have had, and I am excited to incorporate it into our event designs!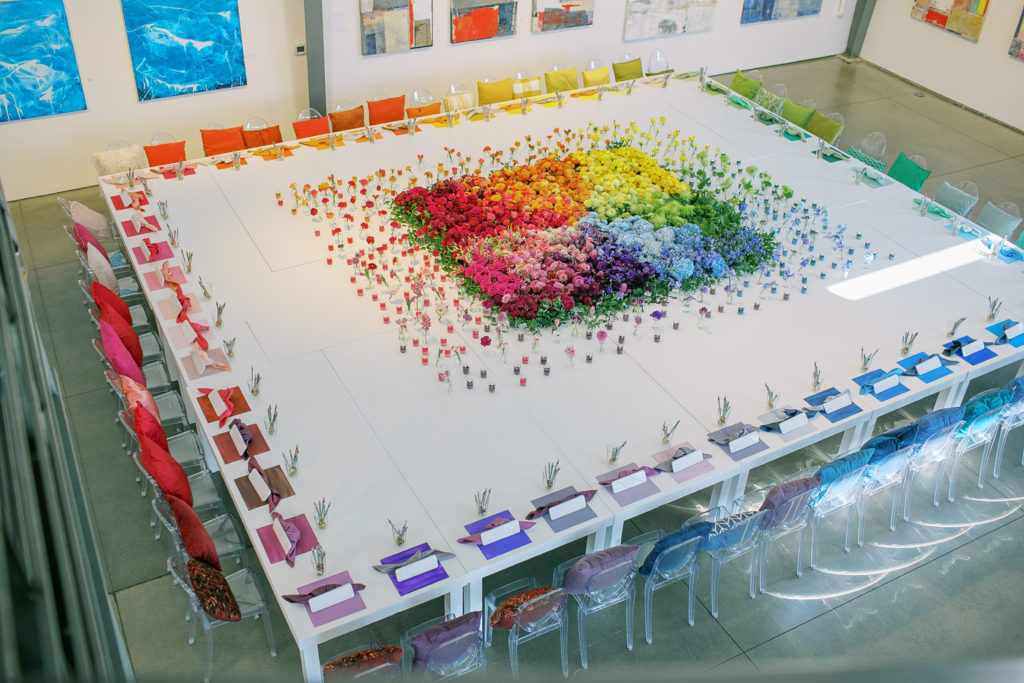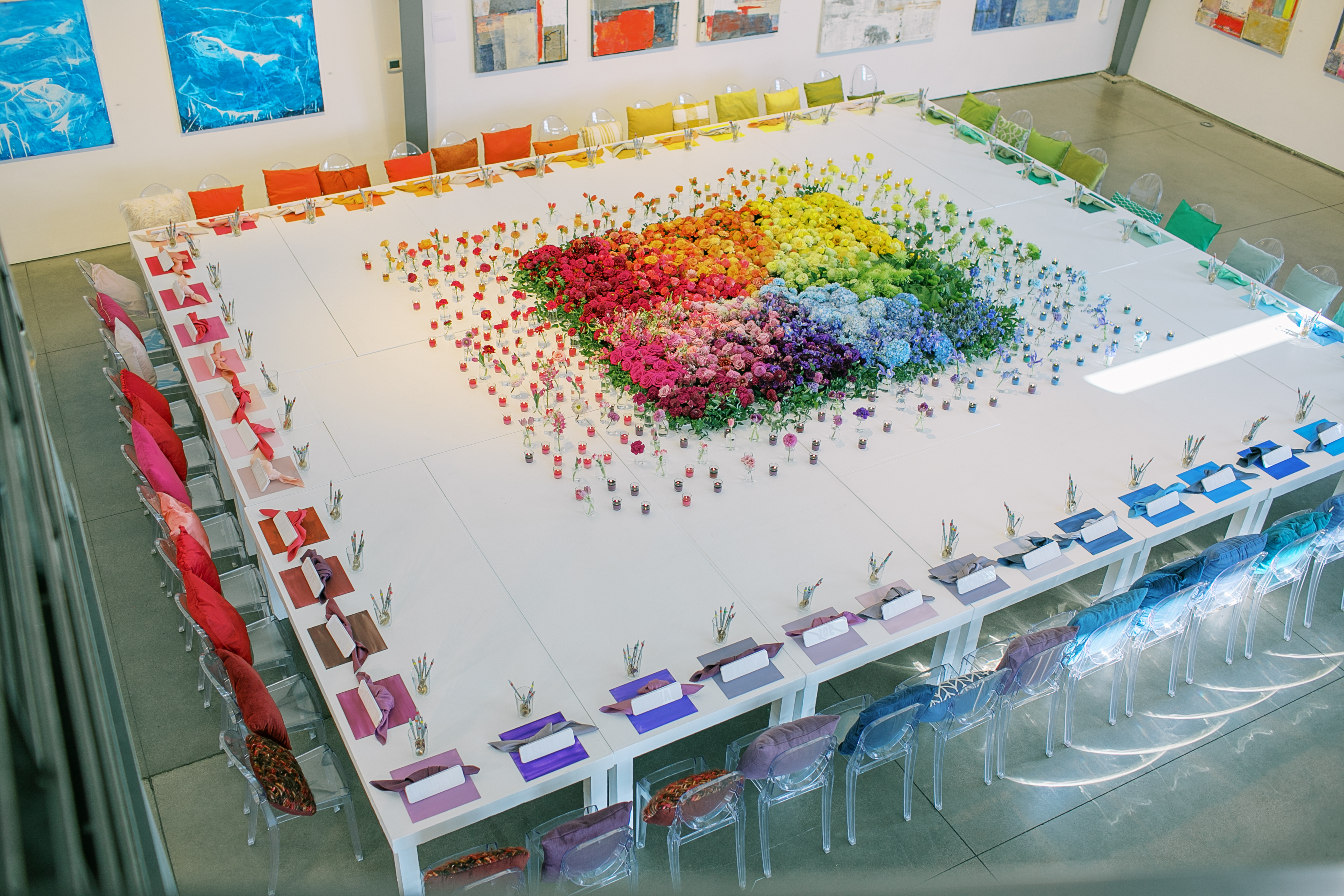 CREATIVE SELF-SERVE OPTIONS
We'll see ongoing trends towards single-serve, individually packaged items, but not as stringent as we've seen over the past year. We won't see many buffet tables, but we also won't see every single item in its own sanitized vessel—this trend was out of necessity and won't last because of the cost of rentals and the additional trash produced as sustainable trends are on the rise (which leads us to our next point).
RISE IN SUSTAINABILITY
Sustainable catering and products will be on the rise, using elements that are either upcycled, recycled or incorporating materials from the environment. We think many will start being much more conscious of their carbon footprint after seeing just how much PPE and plastic containers had to be used in 2020, which will continue in 2021, but many will want options that are eco & environmentally friendly.
One example of our sustainable setup options that we love is our beetle-kill walls. The walls are made from pine trees that succumbed to the pine beetle. Super neat, gorgeous and a great sustainable conversation piece!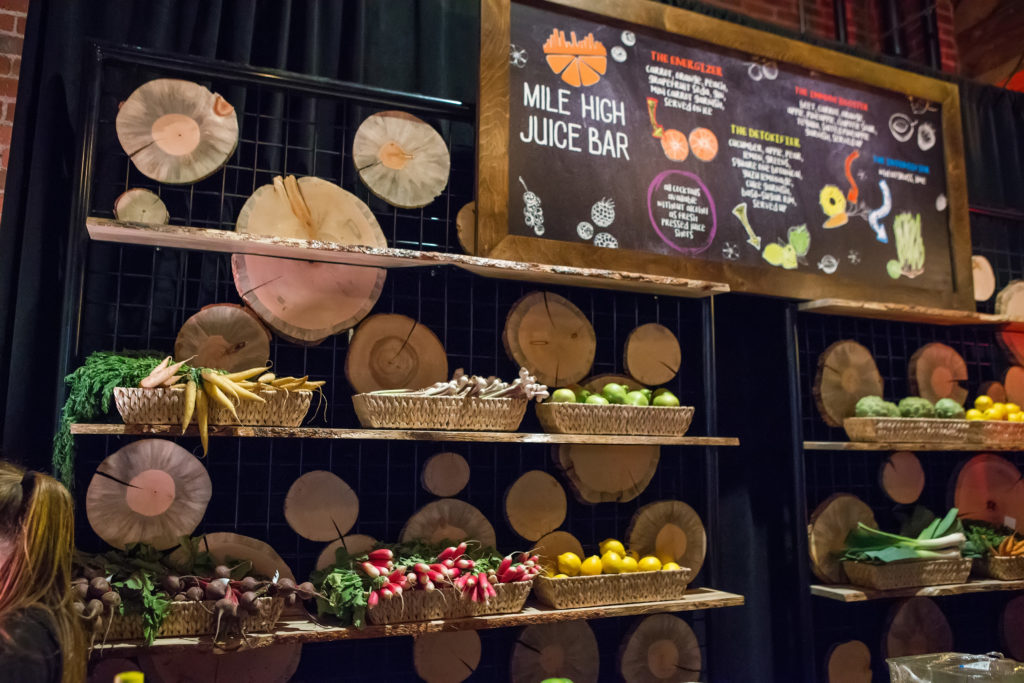 INCORPORATING TECH
Technology will come into play in unusual and unexpected ways in 2021. As a population, we've become accustomed to using technology for everything, and we predict that will flow into catering and events next. We think QR codes will play a unique role in our menu design and wayfinding for events. Guests will want to use their personal device to get menu ingredients and become familiar with what is being served at each station. This is also more sustainable—fewer paper menu tents!
INCREASED SANITATION & SAFE SERVICE
While safety and sanitation have always been a priority for Catering by Design, we think clients will continue to expect a higher level of sanitation and safe service practices. This includes visible and accessible sanitation stations for guests and staff, continued social distancing—no one wants to rub elbows right now—as well as printed materials to help explain service styles and menus to reassure guests and regain consumer confidence.
EVENT CATERING TRENDS TO WATCH FOR IN 2021
Food trends are ever-changing, and we love being at the forefront! Here's what we're thinking everyone will taste more of at 2021 events:
CREATIVE SMALL PLATES
Small plates will be a continued focus for events, with miniature entrees on an individual plate. Whether served via stations or as a multi-course plated tasting dinner, this allows the guest to have multiple options to try a variety of dishes and flavors. Big requests we've had recently for our culinary team are fusion dishes that mix bold spices and differing cuisines, as well as comfort food with a healthy twist.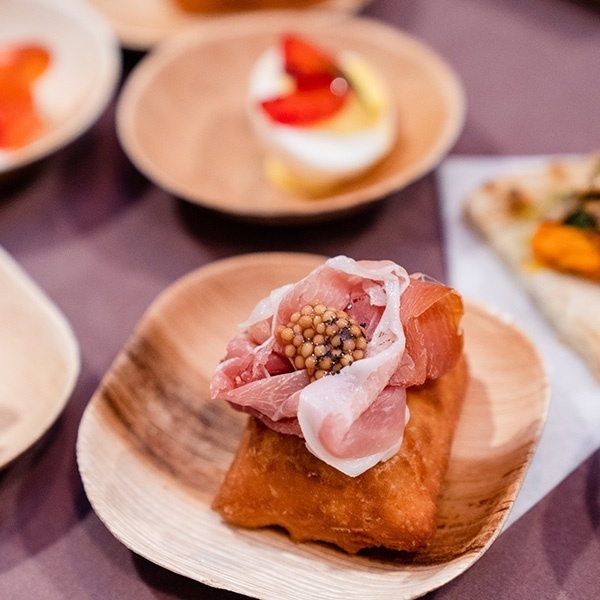 SUPPORTING LOCAL
This one is huge! Given this last year, people will want to know their local communities are still doing well. As we purchase from more local purveyors, we will share that with our clients and make this a priority. We also think local products are going to be big for weddings (more on 2021 wedding trends in a bit…), and regardless of if they live in Colorado or are doing a destination wedding here, we think promoting the "Colorado theme" will be big.
PLANT-BASED
Plant-based menus are going to be an ever-evolving term, not necessarily meaning vegan or vegetarian but rather having menus that are more plant-centric and with smaller portions of meat. Potentially have a plated entrée that has a very high-quality four-ounce portion of meat with delightful fresh, locally sourced, seasonal items to accompany it.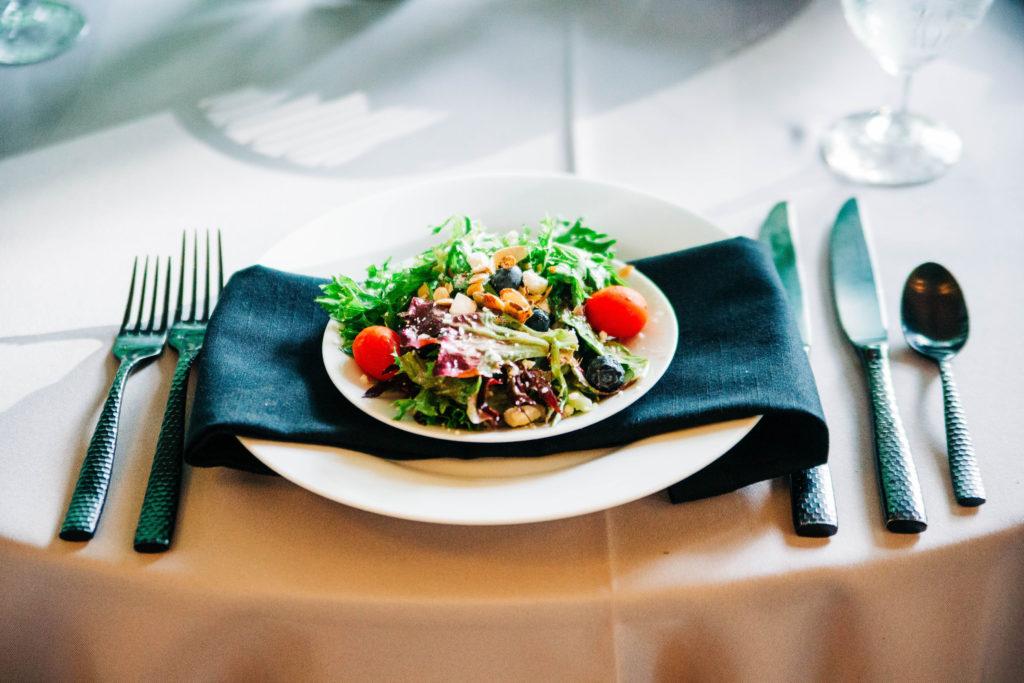 BRING THE HEAT
While a lot of menus in the past have veered towards leaving the spice behind to please all guests, we're seeing an increased demand for spicy dishes and menus incorporating chile sauces; heat seems to be on-trend, and we are here for it! Let's add a little kick to your next event, shall we?
SANS ALCOHOL, PLEASE
More and more groups are opting to include mocktails at their bar, with creative signature mocktail options to match the signature cocktail.
BOXED EXPERIENCES
We believe corporate won't be back until late 2021, and the curated culinary boxes are going to remain a staple as more companies start to realize the "remote worker" is a trend here to stay. These boxes are really experiences that are a great option for teams to stay engaged with employees they don't see physically every day.
WEDDING TRENDS TO WATCH FOR IN 2021
Yes, weddings are still events, but a lot of the time they're also a category of their own—that's why we love taking a peek at wedding trends separately!
SMALL BUT GRAND
As we walk into 2021, we still have a long road to recovery ahead of us. This means that restrictions on gathering sizes haven't let up in a lot of places, and individuals are generally more cautious when bringing family and friends together. We think that this will lead to a year of quality over quantity in every way. With the decrease in guest size and everyone pushing from last year, we see so many couples aiming to make it extra special. Guest lists may be smaller, but budgets are higher to provide that WOW factor for intimate yet over the top celebrations of love!
SAY GOODBYE TO FLORALS, HELLO TO GREENERY
We love flowing bouquets filled with blooms, but we're seeing those take a backseat this year to greenery!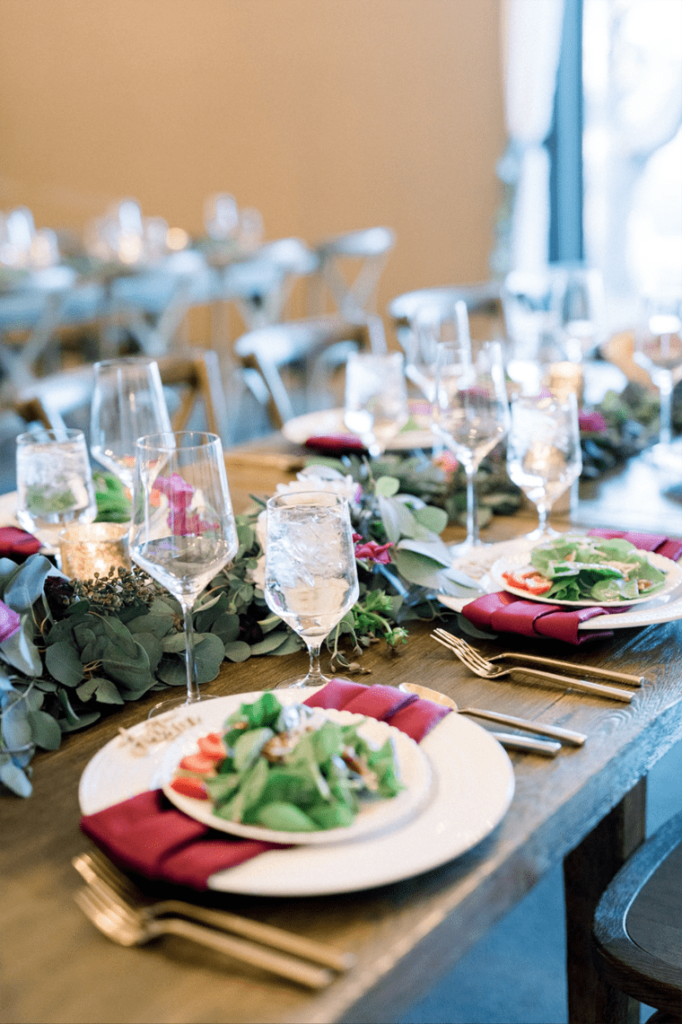 CELEBRATORY SURGE
Let's be honest—we all miss celebrating without a screen between us! We are already starting to see a surge of events to celebrate after 2020 diminished the ability to be together. Think vow renewals, first anniversary celebrations, belated engagement parties and more.
DESSERT: OLD VS. NEW
Couples are starting to request more pie bars and creative dessert options; however, we're also seeing a resurgence of the traditional wedding cake! Totally depends on preference, but we're seeing both old trends revived and new trends coming through.
WHAT TRENDS ARE YOU MOST EXCITED FOR IN 2021?
At Catering by Design, we love being trendsetters with you. What are you most excited to see at your events in 2021? We'd love to chat with you about your vision and how we can help make it happen!